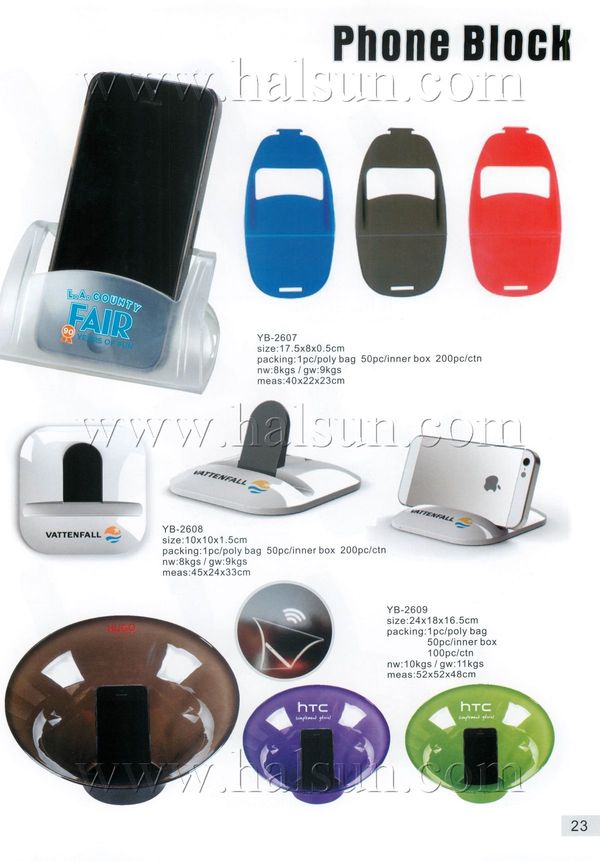 Cell Phone Promotional Horn Stand Amplifier for Mobile Phone,Mobile Phone Stand, Promotional phone stand,YB-2607,YB-2608,YB-2609
Identity Links offers the most complete selection of custom logo cell phone products on the web. In today's connected society, nearly everyone has access to or owns a cell phone for personal and business use. Your customers will appreciate receiving promotional gifts that make their lives easier, such as stands for their mobile phones. Browse our inventory of promotional cell phone chargers, stands, grips and more to see just how large the market for promotional cell phone products has become.
With cell phones becoming more advanced and therefore more expensive, protecting one of your most important assets is a priority. Promotional cell phone holders and cases ensure that your cell phone is protected from dings, scratches and even falls. You can find imprinted cell phone covers with zipper or Velcro closures, non-slip grips and much more. Tired of losing your cell phone at work? Keep it in one place thanks to our promotional cell phone holders in a variety of shapes, sizes and prices. No matter your budget, we have a promotional cell phone product that your customers are certain to love. Contact Identity Links today to request a sample for your next promotional campaign.
tags: Horn Stand Amplifier for Mobile Phone, mobile phone stand, Promotional phone stand, promotional gifts, marketing giveaways, promotional stationery, Custom Desktop Mobile Phone Stand, Cell Phone Stand, desktop mobile phone stand, phone stand, Promotional Cell Phone Accessories, logo phone stand